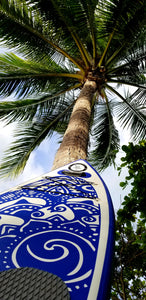 BOATTOYS.CA NEW PRODUCT ANNOUNCEMENT! - Anahola Board Co. iSUP's
BoatToys.ca is proud to introduce the hands-down best quality inflatable SUP's on the market...and they are from a CANADIAN company!
Anahola Board Co. is a Canadian success story that is building inflatable SUP's like no one else in the market. Their designs are beautiful, functional, and the MOST DURABLE available. This isn't the standard marketing speech where everyone says they have the best product when the reality is they are all selling a similar product with a different logo. Anahola backs up their boards with an unheard of at this price 2 YEAR WARRANTY. Most manufacturers can't offer a warranty this long because they don't construct their boards to the same standards. The few that do offer comparable warranties cost twice as much as Anahola boards! They also contain dozens of exclusions that could negate most warranty claims. Anahola's SUP's have been optimized by the most experienced designers in the industry and materials are sourced from all over the world. Everything that goes into these boards is best-in-class. 
This strength test video of a Blue Lotus SUP vs a GMC Canyon Duramax truck shows just how well constructed these boards are. Even with the tire driven right to the edge of the board there are no failures. The SUP from this test is still in use and has never had an issue.
Do not let the prices fool you, Anahola Board Co. SUP's compete with the most expensive options on the market. Why are they priced so reasonably? When a Canadian company designs their own product and sells to Canadian consumers without going through the US there are huge cost savings. Anahola passes those savings on to Canadian consumers. Many of the most expensive SUP brands also spend massive amounts of money on advertising that inflate the prices of their products. Anahola advertises by reputation and word of mouth so those huge advertising costs don't need to be included in the price.
Anahola Board Co Wayfinder Inflatable SUP
Anahola Board Co Blue Lotus Inflatable SUP
We have secured a large inventory order of both the Blue Lotus and Wayfinder boards that will be available to ship in mid-April, 2021 based on current estimates. Ordering now will guarantee your shipment and your payment will not be processed until your board ships! We expect to sell out fast so order early!
---